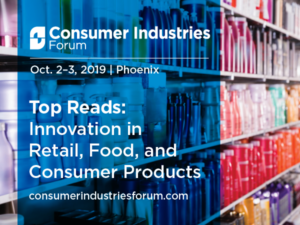 Next-day delivery service giants, agile market entrants, and disruptive technologies are changing the way people buy, shop, and live in unprecedented ways. In this rapidly evolving marketplace, retail, food, and consumer products companies need to get creative and find new ways of doing business to stand out from the competition and maintain their market share.
Retail, food, and consumer product companies must rethink how to connect with and serve the digitally enabled consumer. Based on our 2019 state of the retail and consumer product industry trends report, the three major pressures that SAP customers in these industries are experiencing include: fixing processes that need streamlining or automation, transitioning to a digital business, and bridging the gap between IT and other functions.
What Industry Experts Are Saying About These Trends
To help you keep up in this complex environment, we've gathered nine of the top articles that touch on some of these pressures and industry trends. Reviewing these articles and the trends report will give you a good understanding of what's top of mind for SAP customers in these industries. We also suggest that you follow and read some of the ideas being shared by the influencers on our retailtech influencer list.
Retail Industry Trends
Steve Dennis highlights the importance of shifting towards a "harmonized retail" for traditional physical stores to remain competitive and grow financially. He defines this idea as a matter of "showing up in remarkable ways at the moments that matter in a customer's journey."
Brick-and-mortar stores are fighting the e-commerce giants to earn the attention of shoppers. As part of their strategy, many retail companies are leaning toward a blend of online, offline, and mobile solutions to create the kind of outstanding shopping experience customers want. From smart mirrors, to queueless checkouts, "The retailers and tech companies creating new in-store tools and software are at the forefront of innovation and are hoping to make the pain points of brick-and-mortar stores a thing of the past," said Nicole Reyhle.
Retailtech investment has been rapidly growing in an attempt to improve and personalize customer experience. Is retail technology a tool for increased efficiency and customer satisfaction or a threat to customers' privacy? Emma Sharley offers some insights on the route technology should take in retail.
Automation in retail is a change that all stores are slowly but surely moving toward—and one that will bring major changes to the workplace. As machines take on more of the work that employees once did, retailers will need new hires and new skills. This article explores all the implications of adopting retailtech that every retailer should know to be ready for this change.
Consumer Product and E-Commerce Trends
Bob Phibbs, best known as The Retail Doctor, shares his extensive experience in retail and explains why brick-and-mortar stores will never die. He highlights the importance of creating unique and authentic relationships with clients in a world dominated by social media and over-filtered photos.
The real power of physical retail stores has been heavily overlooked and under-analyzed. In today's digital marketing world, retail stores still have a lot to offer to both clients and retailers. "Unlike digital media where the consumer's true level of interest or engagement can be debatable, a physical store can validate the consumer's actual physical presence and participation in the experience," said Doug Stephens. It is a matter of finding the right metrics to evaluate a company's real impressions on clients and use this data to better serve them.
This detailed description of millennial behavior, challenges, generational pressures, and lifestyles reveals their spending needs and preferences. Every retailer should understand these factors so they can connect with this generation of consumers.
Food and Beverage Trends
What's in store for food and beverage trends? From a growing use of plant-based protein, to a reduction of sugar, a decentralization of retail centers, and the use of smart packaging, the food and beverage business is becoming more wellness- and sustainability-oriented. See the top 20 trends in the food and beverage industry in this article by CB Insights.
Customer demand for meatless products has been on the rise for some time now. Yet food companies still have a long way to go in this meatless revolution. This study by Julia B. Olanju shares some suggestions on the direction food companies should go to meet the needs and demands of these consumers.
To learn more about the trends, pressures, and innovations in retail, food and consumer products, join us at the Consumer Industries Forum October 2–3 2019 in Phoenix, Arizona.
The Consumer Industries Forum is the only SAP-specific conference for retail and consumer products professionals that is officially endorsed and supported by SAP in North America. The conference provides insights into digital technology trends and the latest solutions from SAP. Learn from industry professionals who are driving results with people, process, and technology.
Register for the conference here. Stay up to date on conference content and more by following @CI_Forum on Twitter and @EventfulConferences on Instagram.