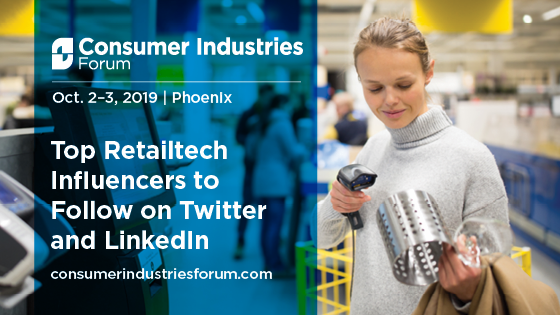 The rise of the digital customer, online shopping and global retail giants is placing growing pressure on the retail market to transform virtually everything about how they do business. To keep up, retailers are investing in a wide range of technological solutions to help them better understand and serve the needs of the digitally empowered customer
According to research on retail executives by ASUG, 97% of respondents believe that technology will significantly or moderately affect their customer relationship management (CRM) or customer satisfaction process. Customer satisfaction is critical for companies in retail and consumer products to differentiate themselves from the competition with technology likely being a deciding factor that will help them serve the digitally empowered consumer. For more information on industry trends, see: The State of Retail and Consumer Products Industries.
With the acceleration of technological innovation, it's difficult to keep up. So, we created this list of top retail technology influencers to help. We recommend using this list as a starting point to stay up to date on this exciting and rapidly changing technological space!
Steve Dresser
Managing Director at Grocery Insight
Retail advisor and insight provider for executives worldwide. Recognized influencer focusing on global retailtech trends and the future of retail.
Mary Portas
Chief Creative Officer at Portas
Mary Portas | @maryportas Chief Creative Officer who looks at everything through the lens of people, predominantly in the retail, fashion and service sector. Retail Advisor, journalist, TV presenter, author, Save the Children ambassador and government advisor.
Neil Saunders
Managing Director and Retail Analyst at GlobalData Retail
Working with retailers to help them make informed commercial decisions based on a thorough understanding of the market and its future direction. Specialized knowledge in consumer behavior, brand preferences, channel dynamics, market forecasts, stores and locations.
Bob Phibbs
CEO at The Retail Doctor
Professional speaker on retail sales, training and marketing. Author, blogger, business makeover specialist, and online thought leader.
Nicole Reyhle
Founder of Retail Minded
Experienced retail and wholesale professional who has a passion for small businesses. Recognized retail thought leader, influencer and Founder of a retail blog that shares news, education and support specific to independent retailers.
Doug Stephens
Founder and President at Retail Prophet
Doug Stephens | @RetailProphet
One of the world's foremost retail industry futurists whose thinking has influenced many of the best-known retailers. Speaker, author of Reengineering Retail and global advisor on the future of retail.
Emma Sharley
Director at Sharley Consulting
Working with global brands to shape their future. Co-Founder of Shop You a fashion/AI tech startup, and recognized retail technology influencer.
Jason Goldberg
Chief Commerce Strategy Officer at Publicis
A 4th generation retailer with expert knowledge on the digital disruption of commerce. Voted as retail's top global influencer by Vend four years in a row, and in 2017, was inducted into the National Retail Federation "The List" of people shaping the future of retail.
Steve Dennis
President and Founder at SageBerry Consulting
Strategic advisor, international keynote speaker and writer on retail innovation and the future of shopping who has worked with dozens of retail, luxury and social impact brands to inspire, catalyze and design their journey from boring to remarkable.
Keith Anderson
SVP, Strategy and Insights at Profitero
Keith Anderson | @KeithAnderson
Forward-thinking analyst on retail, e-commerce, online grocery, CPG, and FMCG. Retailtech influencer, author and recognized speaker for the industry.
Deborah Weinswig
CEO and Founder at Coresight Research
Deborah Weinswig | @debweinswig
Retail thought-leader and influencer helping build the future of the global industry. Specializes in the future of the retail ecosystem and how it is impacted by technology.
Tadd Wilson
VP Business Development at ShopRunner
Retail business developer who works to put tools in the hands of retailers and merchants who seek top-line expansion and superior lifetime value. Influential in: the future of retail, retailtech and transitioning to a digital business.
Graham Soult
Owner and Retail Consultant at CannyInsights.com
Retail consultant, blogger, writer and media commentator, specializing in retail technology, the future of retail and digital marketing for the industry.
Anil D. Aggarwal
Founder, Chairman and CEO at Shoptalk
Anil D. Aggarwal | @anildaggarwal
Tech Entrepreneur with exits to Google, TSYS, Ascential and Informal. Founder, CEO and Angel Investor with interest in retail technology, digital disruption and the future of the industry.
Scott Galloway
Founder and Chairman at L2
Scott Galloway | @profgalloway
Founder of L2 and a Clinical Professor of Marketing at the NYU Stern School of Business who teaches about brand strategy and digital marketing. Elected to the World's Economic Forum's Global Leaders of Tomorrow for having an impact on a global level who has specialized knowledge in the retail industry.
Jason Del Rey
Senior Correspondent, Commerce at Recode
Senior Correspondent who reports on the future of retail, Amazon and e-commerce. Podcast producer well-known for his analysis on the disruption within retail markets and technology.
Bryan Eisenberg
Keynote Speaker and Partner at Eisenberg Holdings
NY Times bestselling author, keynote speaker and award-winning blogger. Internationally recognized thought-leader and pioneer in online marketing, improving conversion rates, and helping improve the customer experience in retail and other industries.
Kasey Lobaugh
Principal – Chief Retail Innovation Officer at Deloitte
Deloitte's Retail Chief Innovation Officer, influential in digital marketing, improving the customer experience in the retail industry and transitioning to a digital business.
Sucharita Kodali
VP and Principal Analyst at Forrester Research
Retail and digital operations executive who specializes in digital transformation in large B2C companies, startups and the retail experience including store operations, marketing and merchandising.
Natalie Berg
Retail Analyst, Author and Founder at NBK Retail
Retail Analyst, author and Founder of NBK Retail, a consultancy specializing in retail strategy and the future of the industry. Regular TV and radio commentator discussing retail trends and technology.
Consumer Insights Forum 2019
Join us at the Consumer Insights Forum this October 2-3 in Phoenix to learn from leading retail and consumer product professionals who are driving results with people, process and technology.
The Consumer Industries Forum is the only SAP-specific conference for retail and consumer products professionals that is officially endorsed and supported by SAP in North America. The conference provides insights into digital technology trends and the latest solutions from SAP. Learn from the industries leading experts and network with SAP users at this innovative retail and consumer products conference.
Hear expert insights from some of these retail and consumer product professionals:
View the full 2019 speakers list here.
Stay up to date on conference content and more by following @CI_Forum on Twitter and @EventfulConferences on Instagram.