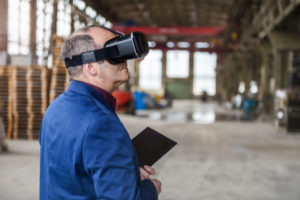 Augmented reality can enrich a technology experience while reducing costs, improving ROI, and creating more productive, efficient employees. These are all critical components of the wholesale distribution industry. Augmented reality has the unique ability to allow users to view digital data in real time, providing near-instant access to the answers that a person or company needs. Let's review how augmented reality has created a significant impact on wholesale distributors that have already implemented this growing and improving technology.
Augmented reality adoption is growing
By 2022, augmented reality (AR) and virtual reality (VR) could reach upwards of $105 billion in revenue, according to a study by Digi-Capital. Of that amount, $90 billion of that estimate will be AR technology. There's also evidence that many consumers and workers are putting more trust into AR technology than in Internet of Things (IoT) technology. According to The Information Systems Audit and Control Association's IT Risk/Reward Barometer survey, 60% of employed U.S. consumers feel that AR applications could n some way improve their lives while also making their jobs easier to do.
AR in wholesale distribution is a prime example of this. In many ways, wholesale distributors and others within the supply chain have adopted AR technology, and they will now be ahead of the curve. In a market dominated by Amazon and Alibaba, it's becoming critical for companies to adopt technology and tools that will give them an edge by offering the ability to do more with fewer resources.
How does AR fit into the wholesale distribution industry?
AR can enhance the user's experience by adding a variety of components, all virtual, into that user experience. This includes not only images but also various graphic displays and even sensations. By incorporating a visual sensory journey, they can explore a vibrant, powerful world. This creates a new layer or method of interaction, not just within a VR headset (a common misconception) but also into the real world.
Let's look at a few wholesale specific scenarios. How could the implementation of AR in the wholesale distribution world directly improve operations?
Inventory management with augmented reality
Inventory management in wholesale distribution is by far one of the most complex components of the supply chain. With high SKU counts and poor true inventory visibility, even in the most well-organized operations can struggle. The addition of "unsaleable" items complicates matters further. These items, for various reasons, are removed from the primary sales channel and may need to go through the product reclamation processing centers. However, AR provides far more visibility into inventory. In doing so, it can help to ensure consumer demand is met without creating a stockpile of inventory that holds cash flow hostage.
Another key benefit is in the way AR can provide better insight into inventory movement and demand management visibility through the supply chain. In this scenario, AR offers the ability to manage inventory levels more efficiently, improve service performance, and better meet consumer demand while reducing overall costs.
Better training and hands-on insight
A simple example lies in the way AR can work for training within the wholesale organizations. Daniel Newman, the CEO of Broadsuite Media Group and an analyst at Futurum, provides insight here. In Forbes, Newman says, "It's clear that AR gives business owners limitless potential for placing trainees in real-world scenarios and situations. Many employees learn best by doing rather than seeing. AR is a happy medium between reading about something in a book and doing the real thing."
Here's an example: Within the wholesale distribution industry, finding skilled employees is becoming more challenging due to an aging workforce and limited millennial interest in the industry. A new employee can obtain the training he or she needs using AR technology. Employees are immersed in an interactive experience, navigating through multiple scenarios that simulate realistic experiences and provide scenarios related to the job they will perform. This is far more effective than written instructions or even instructor-led training.
Additional benefits
Outside of these scenarios, AR in the wholesale distribution industry is incredibly accessible. For example, it can help increase customer asset uptime and even reduce costs by using predictive maintenance to provide alerts before an asset fails. Because it improves effectiveness by providing opportunities for remote service, customer satisfaction also increases.
Far beyond this is the use of smart vending machines. Imagine such a device in a key location. AR enables replenishment of products in real time, enhancing service performance, reducing inventory requirements, and improving customer service.
Overall, the implementation of AR into the wholesale environment makes financial sense. The process is not as complex as other technology integrations, but the outcomes are profound. Today's business leaders should be able to clearly see the advantages of implementing this type of hands-on, real-time experience for workers and for profit margins.